---
BMW by Davis
---

The making of BMW by Davis Lisboa.
---
The Artist Davis Lisboa Captured His Particular Style On An BMW 1 Series Bodywork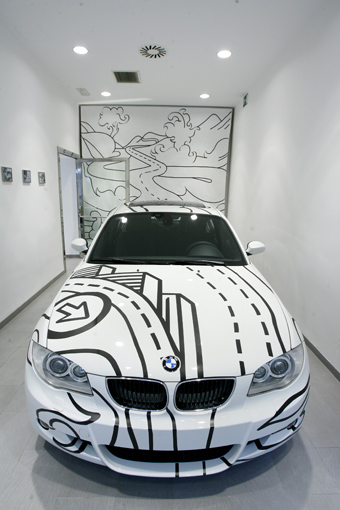 As it could not be otherwise, the star of the night was a car. In this case, a very special BMW 1 Series. And that's because the Brazilian artist (lay out, illustratio and illustrador) Davis Lisboa based in Barcelona reflected his particular viewpoint on the bodywork of the Compact BMW. Davis has mixed Pop Art, German Romantic landscapes, the world of comics and low and hight art, resulting in a frankly attractive outcome. This creation will allow this 1 Series car to be placed in the BMW Ibérica collection.
Those who can not attend the ceremony of inauguration are lucky because the 1 Series "by Davis" will be exposed in this BMW dealer "Cano Catalunya" for three weeks. Those who desire will be able to get a picture next to the vehicle and then download it from the www.bmw.es/canocatalunya.
In addition, the artist presented an art performance overnight shaping his particular style in the space of the new BMW dealer.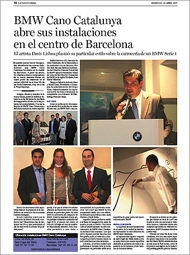 La Vanguardia, April 2007.